Devry University - Alpharetta Campus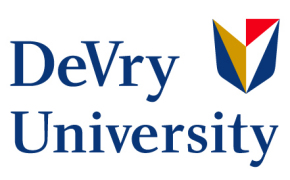 At DeVry University, education works.
At DeVry University in Alpharetta, you can choose from Associate, Bachelor's, and Master's degree programs within five distinguished colleges—Business & Management, Engineering & Information Technology, Health Sciences, Liberal Arts & Sciences, and Media Arts & Technology.
For more than 75 years, the faculty and staff of DeVry University have been firmly grounded in the knowledge that knowledge alone is not enough. We help you prepare for the real challenges you'll face in the workplace by bringing the real world into the classroom. And it works. More than 90% of DeVry graduates system-wide in the active job market are employed in their field of study within 6 months of graduation*. That means at DeVry University in Alpharetta, you'll earn more than a degree. You'll receive a career education that can lead to career success.

An education that's reputable.
Like other top schools, DeVry University in Alpharetta is accredited by The Higher Learning Commission of the North Central Association of Colleges and Schools. Choose from associate, bachelor's, or master's degree programs within five distinguished colleges - the College of Business & Management, College of Engineering & Information Sciences, College of Health Sciences, College of Liberal Arts & Sciences, and College of Media Arts & Technology. Then enjoy the confidence that comes from earning your degree from a reputable university that's respected by top employers.
And flexible.
DeVry University has more than 90 locations in metro areas across the United States and Canada. And the majority of our degree programs are also offered online.
Take your courses onsite, online, or a mix of both - whatever best fits your life.And affordable.
More than 85% of DeVry University students receive some form of financial aid. In addition to federal, state and local grants or loans, you may be eligible for one of the 7,500 scholarships offered exclusively through DeVry University, totaling up to $25 million. Our expert financial aid advisors will help you explore every avenue for funding your education.
And delivers results.
Your education is an investment. With a career success rate of over 90%*, we provide a return on your investment you can depend on. From internship opportunities to knowledgeable career advisors who can assist you at graduation and throughout your career, DeVry University's unparalleled career services team offers the support you need to achieve your goals.
*Career Success: Since 1975, 237,957 undergraduate students system-wide have graduated from DeVry, and 90% of those in the active job market were employed in career-related positions within six months of graduation. Active job market includes those employed prior to graduation.
---
CLICK ON THE 'OFFERINGS' TAB ABOVE TO FIND OUT MORE ABOUT OUR AVAILABLE AREAS OF STUDY
---
Twitter: @devryuniv
Tags: keller, devry, universities, colleges, engineering schools, accounting schools, tech schools, technology schools, business schools, mba, associate degrees, masters degrees, bachelor degrees, online degree programs, online courses, online colleges, online classes, degree programs
Brands: DeVry University, DeVry College of %%CITY%%, Keller Graduate School of Management
Services: Associate, Bachelor's, & Master's Degree programs offered online or at on of our 90+ campuses.